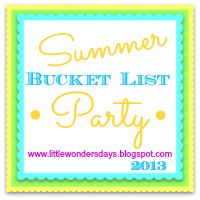 Whoa, where did the spring go! May is gone, and there are two more weeks left in a school year. I am trying really hard not to get sucked into too many work related projects, so I can actually enjoy summer more than I enjoyed spring. June brings several special dates for our family – my Mom's 65th birthday, our wedding anniversary (always falls near Father's Day) and the end (I hope!) of my Hepatitis C treatment. It also brings the end of the first grade and the beginning of a summer break.
June goals:
1. Have a celebration with friends for our wedding anniversary.
2. Start exercising again – yoga and swimming.
3. Start refinancing – we still didn't move on that!
4. Get a new front door.
Summer bucket
For the first four weeks Anna will be attending a summer day camp with weekly fun field trips and swim trips. Then she will be hanging out at home with papa for 2 weeks and attending daily swim classes. One week of a chess camp, and then we are off to New Jersey to visit grandparents. One more week at home and the school starts again in mid August. Here are some of the things we hope to get done this summer:
1. Swim and ride bikes
2. Field trips to Sierra Caves, U-Pick farm, and new Exploratorium
3. Cook and bake together
4. Build with Legos
5. Learn to sew
6. Read a lot (of course) and, hopefully, keep a reading journal
7. Play chess and board games
8. Have playdates with friends
9. Camp in the backyard
10. Invent, create and explore
I hope everyone has a fantastic summer!