In our lives… I can't believe September is over. With a lot of work and a school routine established weeks seem to be whizzing by. Anna mostly enjoys school – her favorite things are music, library time, recess and buying her own lunch. Almost every day she brings home sight word lists – the idea is that a parent has to test a child, sign off on the list and send it back for a test. The test is to read the words, not to write them, but we are trying to make sure that Anna knows how to spell these sight words. So far she was breezing through these lists, and now on list #8 out of 30 expected for a year.
Afterschool. We haven't been doing much during the week, and I was sick this Saturday, so Anna was mostly left to her own devices. As usual, she spent a lot of time reading. She loved the fun birthday party we went to – it included both a ride on a steam engine train and a carousel ride. She also adores her afterschool Mad Science class, and I am impressed that this time they really have a curriculum, not just flashy experiments like in a summer camp. They were learning about tools and measurements in science last week.
What's new? Anna still doesn't choose drawing or painting often as an activity, but her fine motor skills are improving, and I can see it in the writing samples she brings from school too. She puts more thought into her drawing and writing. She also asks to color from time to time – something that she was never interested in before. It's interesting to see how her interests change as her fine motor skills mature.
Quote of the week. One party we went to this weekend was a princess-themed party, and party organizers had princess costumes for the girls that came without their own. Anna chose this dress and stayed in it just long enough for me to snap a couple of pictures. Then she stated,
I don't understand what this Princess fuss is all about. I am hot and uncomfortable. I never want to be a Princess, I just want to be me, dress how I like and do what I like.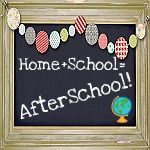 Co-hosted by:
We would love to have you link up your school-age posts about your learning week including, crafts, activities, playtime and adventures that you are doing to enrich your children's lives after school! When linking up, please take a moment to comment on at least one post linked up before yours and grab our AfterSchool button to link on your site. By linking up you're giving permission for us to share on our After School Pinterest Board or feature on our AfterSchool party next week!