In our lives… Anna turned 6 on Friday! She was very happy and mellow in the days leading to her birthday, and it was a pleasant week for all of us despite my being crazy busy at work. I kind of have three jobs now, so it's not easy, especially when I am taking the whole week off for our San Diego trip. Work has to wait while we are visiting Legoland, San Diego Zoo and other attractions.
Afterschool. On Wednesday I took Anna to our traditional pumpkin patch. It's only a piece of a parking lot not far from our house, but it has everything important to her – bouncy houses, a small hay jump, farm animals and, of course, pumpkins. Sadly, many pumpkins were moldy this year, and it took us quite a while to pick a perfect pumpkin family, but we managed.
What's new? This year traditional Monster Bash at school happened to be on Anna's birthday making it even more magical. She wanted to go again as a witch, and papa made her a new witch dress, since she outgrew her previous costume. It was fun to see so many of her friends there in adorable costumes, and it's just the first Halloween event of at least three this year.
Quote of the week: You know, mama, I will still love number five even though I am turning 6 now. Five is as perfect as the Earth's distance from the Sun… I would love to be five forever, but I really want to get married and to have children. I am afraid I have to be a little older for that. I think I'll get married at ten and then have one boy and one girl. Twins would be perfect.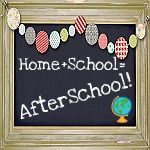 We would love to have you link up your School-Age Posts (Ages 5 and up) about your learning week after school including, crafts, activities, playtime and adventures that you are doing to enrich your children's lives after their day at school or on the weekend! When linking up, please take a moment to comment on at least one post linked up before yours and grab our after school button to include a link on your site!!! By linking up you're giving permission for us to share on our After School Pinterest Board or Feature on our After School party next week!