In our lives… Fall battles summer for dominance here. We had some warm days and first rainy days of the season. Anna still loves school very much and says that two days of weekend is too much. They started ability-based language art classes where students from different first grade classes are mixed together based on reading proficiency and sent off to different classrooms for an hour four times a week. She is, of course, in the highest reading group that is taught by the second grade teacher, and she seems to enjoy her language arts class a lot.
Afterschool. At home there was a lot of Lego building and drawing. I made a few of mini-books to reuse our writing paper, and Anna was drawing Halloween monsters and other Halloween themes combining stickers and drawings. Of course, as always, there was plenty of reading – Anna watches no TV at all and didn't ask to ask for any electronic entertainment for quite a while.
What's new? Last Sunday Anna and papa went sailing with our friends. It was an excellent time to go, because they caught special events in San Francisco – both American Cup sailing race and an air show for Fleet Week. Anna said that the airplanes (Blue Angels) were "cool but very loud", and papa took a lot of very cool photos.
Quote of the week:
Anna: Mama, are you sure that I am your daughter? Really really sure?
Me: Yes, I am absolutely sure.
Anna: Prove it.
Me: Go look in the mirror. Everyone says you look just like me.
Anna: I don't see it. I see papa's eyes and papa's hair. This proves that I am his daughter, but what about you?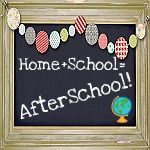 We would love to have you link up your School-Age Posts (Ages 5 and up) about your learning week after school including, crafts, activities, playtime and adventures that you are doing to enrich your children's lives after their day at school or on the weekend! When linking up, please take a moment to comment on at least one post linked up before yours and grab our after school button to include a link on your site!!! By linking up you're giving permission for us to share on our After School Pinterest Board or Feature on our After School party next week!