In our lives. I came back from a business trip on Wednesday morning to be able to make it to the Back to School Night on Wednesday night. There were no big revelations during curriculum overview – I am pleased to see emphasis on reading and "encouragement" of writing. I am hoping that by the end of the first grade Anna's fine motor skills will mature to the point when writing stops being mechanically difficult.
Afterschool. I accepted that there is simply not enough time for afterschool activities right now except on Friday afternoon and weekend. Anna comes from home and Y (she goes to afterschool Y program three times a week) tired and only wants to read and cuddle. At least her method of unwinding is reading and not watching TV. On Friday afternoon we had a cooking class with mama again.
What's new? Yesterday Anna's class had a picnic – a great opportunity for parents to meet each other and for the kids to play together. It was fun to reconnect to old friends and make some new connections. We also had a playdate with Anna's best friend and his sister. The kids had so much fun together that everyone was crying and throwing tantrums when it was time to leave.
Quote of the week. I know 10 secrets about balls:
1. They are fun to play with.
2. They are my second favorite object. My first favorite is rocks.
3. You have to hit the ball hard, so it bounces back high.
4. I am a good dribbler, because I've been practicing.
5… I'll tell you the rest later.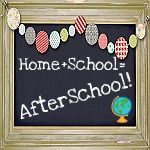 Co-hosted by:
We would love to have you link up your school-age posts about your learning week including, crafts, activities, playtime and adventures that you are doing to enrich your children's lives after school! When linking up, please take a moment to comment on at least one post linked up before yours and grab our AfterSchool button to link on your site. By linking up you're giving permission for us to share on our After School Pinterest Board or feature on our AfterSchool party next week!