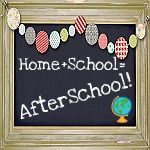 School. Children were preparing for Teacher Appreciation week this week with parent volunteers. Next week will be busy with some sort of special events happening each day and a school Open House and an Art Show on Wednesday. Anna was pleased to finally get to "Outstanding" behavior in class on Friday – interestingly, children can get to "outstanding" not by being very quiet but by problem solving and helping others.
Afterschool. YMCA was also busy with special activities. Their May "club" had Mad Science option. Of course, Anna is in this club and enjoys it a lot. Their first week was about bubbles, and the second week had rainbow milk experiment. Sadly, Anna couldn't explain any of them, but I wouldn't expect her too, as the science behind them is fairly complex.
Places we are going – We decided to take it easy this weekend. We volunteered at our neighborhood pool and helped prepare it for an opening over the Memorial Day weekend. We can't wait to go swimming!
Quote of the week: Anna: Mom, I feel that my brain is almost full to the brim.
Me: Goodness, where are you going to keep all the things you will learn in the next 12 years of school?
Anna: Hmm… I will have to free some space. I have a lot of chambers in my brain. I think I will free the biggest chamber.
Me: And what chamber is that?
Anna: A chamber of bad thoughts. I will keep only one there – when we went to that Egyptian Museum and I thought an unwrapped mummy. That's the worst thought (memory) I ever had.