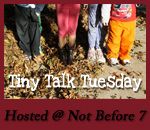 While playing "a guessing game": I am thinking of something that is round, bounces on the ground and starts with letter B.
Me: Ball!
Anna: Nope
Me: Baseball? Basketball? Bouncing ball?
Anna: Nope
Me: OK, I give up. What is it?
Anna: A baby brother!
During a giant meltdown over dinner choices and through sobs:
I will NOT eat soup! I vote "No" on soup! And by the way - my sobs are playing baseball in my head hitting my skull. It can't be healthy, because skull protects my brain!
Out of the blue:
You are my best mommy in the world, and my babushka is the greatest grandma in the world, because you guys spoil me most.
Join
Tiny Talk Tuesday
at Not Before 7. And, by the way, we are
featured
on Tiny Talk Tuesday today, so have a look :)