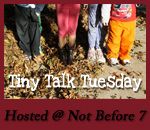 We went to a party where she was sitting at the table with another 3 year old boy. During the pause in the conversation at the big table, she said sternly, You'd better watch out, N. When girls get fat, it's because there is a baby in their tummy. When boys get fat, it's because they eat too much!
When discovering that her pair of sandals fits much better: Mama, I am really growing! I am growing so fast! I am the fastest growing kid ever!
When I grow up, I want to live with you… But wait! I want to have my own children. That's when I suppose I will have to have my own place.
Me: Usually children move out when they get their first job and have enough money to be able to have their own place.
Anna (confidently): But, mama, I already have lots of money in my piggy bank! But I still want to live with you guys.