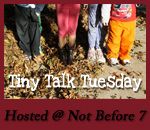 Anna is 3 years 9 months old
Anna (out of the blue as usual): Mama, what does "deny" mean?
Me: Umm… It means disallow, not let someone do something. For example, "he was denied entry to the castle". It means that he was not let in. Now, can you use it in the sentence?
Anna (singing out of tune): For he is a jolly good fellow that nobody can deny.
Me: Oh. It's a different meaning. It means saying something the opposite of truth. For example, Anna denied making a mess.
Anna (grumpily): I get it, mama!
5 minutes later (while skipping around): Hey, mama, I have three different homes.
Me: How is so?
Anna: I have home where we live, then we have "America, our home, sweet home" and then… (dramatic pause)… a home run!
Share your children "pearls of wisdom" at Tiny Talk Tuesday hosted by Not Before 7.