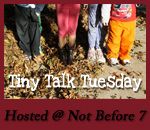 Anna is 3 years 9 months old
Anna (playing outside and holding a stone): Mama, I have a time looker. It's not a watch. It's a time looker.
Me: What does it do?
Anna: It shows me time when I look at it.
Me: And how is it different from a watch then?
Anna: Umm… It goes to the next number faster than a watch!
Me: Why?
Anna: Because the battery inside is very fast! I'd better put it in the pot to keep it hot.
Join Tiny Talk Tuesday and share your children funny quotes.