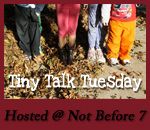 Setting – bath in the evening. Me (impatiently): We will only have time for one book tonight, because it took you forever to get ready for your bath.
Anna (after thinking for a moment): But, mama, it's not forever. It's still the same day. Forever is when I grow old and die.
Come and share your kids' pearls of wisdom at Tiny Talk Tuesday hosted at Not Before 7.