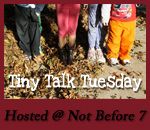 Anna is 3 years 8 months old.
(Anna in bed in the evening): C is my best friend in school. He wants to be a firefighter.
Me: Yes, a lot of boys want to be firefighters.
Anna: Can a girl become a firefighter too?
Me: Of course. Girls can be firefighters and even firefighter chiefs.
Anna: I haven't decided yet who I want to be. There are so many things that are interesting. But I want mine to be perfect.
Me: It's OK. You still have a lot of time to decide on that.
Anna: But most of all I want to be a mommy and to have my own baby. It's too bad that I cannot marry papa, because you guys are married already. Maybe I can marry C instead and he will grow up to be a papa and not a firefighter.
Join Tiny Talk Tuesday at Not Before 7.