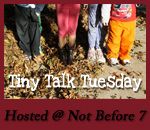 Anna is 3 years 8 months old
Me: Have you taken a nap today?
Anna: Yes, I slept a tiny teeny bit… I slept 4 pm hours.
Me: I think you didn't sleep at all.
Anna: Yes, that's about right.
Anna (wailing entering the garage and seeing the trash basket): Why did you throw out my princess balloon??? I loved it!
Me: It lost almost all its air! And you never asked me where it went. How much exactly did you love it?
Anna: I loved it one hundred loves!
Anna (reading the note attached to the dish we took to a 4th of July party): Ooh, it says "German noodle salad!" German is good! Papa must have put a lot of sugar in it!
Me (kissing Anna good night): I love you, little daughter.
Anna (sleepily): I love you too, medium-sized mother.