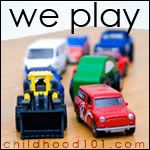 I "invented" a new game for Anna on Sunday. I was always wondering if she actually knows the spelling of the words that she reads so easily. So here is a setup of the game:
- a purse with small toys that represents easy to spell words. We had a car, a baby, a frog, an egg, a cup, a ball, etc.
- letters (we used plastic magnetic letters).
- something to keep score (we used buttons).
The objective of the game is to pull randomly an item from the purse and then spell its word. One point is awarded for every correct letter, and one extra point is awarded if the whole word is spelled correctly. So there is also a little bit of math component in the game - counting the points and keeping total score.
Anna really enjoyed the game, especially since this first time I only got the points for the letters I corrected, so she won and got a special prize – a new small toy. Interestingly, she can easily do spelling challenges in my iPod
TeachMe: Kindergarten
game, but writing the whole words "from scratch" are not the same as inserting one missing letter from a small set of choices. She made more mistakes than I thought she would, but I think it introduced her to importance of spelling in a very fun and enjoyable way.
Come over and play at
Childhood 101
. I also link this post to
Show and Tell Blog Hop
at ABC and 123.