Discover France with preschoolers through a book, an art activity, and a dessert that they can help make.
This post has been refreshed in May 2014 with new graphics, text and links. Disclosure: I am an Amazon associate and this post contains affiliate links. For full disclosure, please click here and thank you for supporting my blog!
A Preschool Book About France
Everybody Bonjours
by Leslie Kimmelman illustrated by Sarah McMenemy is a great introduction to France for preschoolers. The text is designed for a very short attention span and most of the story is told in colorful illustrations. A big plus of the story is that the landmarks and highlights are chosen not from adult's but from a young child's point of view.
Look at the Maps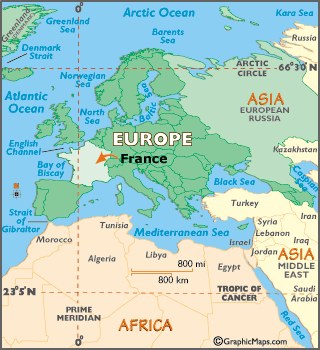 I know that it's early, but I always try to point out countries on the map of the world to Smarty and give her some comparison points. We learned that France is in Europe, that its capital is Paris, that it's a neighbor to Germany where Papa is from and that I spent almost 2 years working there and living in Paris. We also learned that France is almost as big as Texas, the biggest continental state of the United States.
Preschool Art Project – the Eiffel Tower
For the art portion I wanted to finally try a resist painting. Smarty immediately recognized the Eiffel Tower on the page and got quite excited. I suggested using the colors of the French flag for the painting – it's harder to produce "dirty brown" by mixing blue, red and white. She still gave a color mixing a good try. Interestingly, she was disappointed when I pulled the masking tape off – she said that she liked her Eiffel Tower blue.
Here is a fun memory from this project. My husband came home from work and said,
Oh, you did the Eiffel Tower!
I said,
I am glad it's recognizable,
and he goes,
Well, I know that you are talking about France, otherwise I would think that it's a weird letter A.
A Super Easy Chocolate Mousse Recipe
Smarty was super excited to make a French dessert that featured her favorite ingredient – chocolate. Most of chocolate mousse recipes are a little involved, but we followed the recipe from
Look What Came from France
book, which is pretty similar to this
egg-free chocolate mousse recipe
that I found online. took minutes to make in our
Magic Bullet
, and, as you can see, Smarty enjoyed it
a lot.
More Resources About France
More Preschool Geography?
Follow my board
Preschool Geography