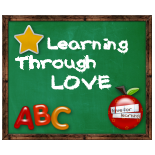 It was an uneven week. Anna was not in a bad mood, but very fidgety. Because of the time change she now goes to bed at around 7:30, so it leaves less time for us to be together. She didn't have much interest in arts and crafts this week, and so our Open-Ended Art project and StArt project were sort of forced. We still managed to have some learning fun together on good days.
Phonics. We are going through long Y book of Progressive Phonics, which unexpectedly proved difficult for Anna. She expected y to say i, and not ai. She surprised me one day when she was "rediscovering" her magnetic alphabet set. I went to another room to get something, and when I came back she spelled the word food – it was shortly before dinner. The she added the word hot, and announced that she made a surprise for papa. He was duly surprised :)
Math. We played Addition War again, now without removing any cards. Anna's counting really improved, and addition doesn't faze her at all. The book that I read some time ago Einstein Never Used Flashcards explains how math progresses in young children, and I definitely see it in Anna. She was also very excited about her new Kumon Book Of Numbers 1-120.
Field Trips: Sailing in San Francisco Bay, but surprisingly she didn't mention it even once since we came back. Maybe she is still "digesting" this experience.
Arts and Crafts. As I mentioned, Anna was not really into arts and crafts this week. Maybe she just has too many of them in school – her teachers constantly tell me that she loves art time in school, and they do a lot of different crafts there. One thing that she enjoyed and did several times during a week was a very open-ended paper plate decoration. I got an idea from The Fifth Street Academy. As I expected, Anna thought that she was making a cake.
Science. After a brief trip to the Moon, we returned to human body and health yet again. Anna is very interested in everything related to this and constantly asks questions about blood, muscles and bones. Here she used a flashlight to look at the blood in her hands, and then she just got silly with it. Sid the Science Kid helps too – we went through series on human body and moved to health. I wish Sid the Science Kid had mentioned something about not putting one's hands in one's mouth. I am fighting a losing battle here, since I am not setting a good example. I am afraid that with two finger biters in the family our daughter is pretty much doomed.
Fine Motor Skills & Prewriting. Anna loves to punch holes with leaf hole puncher. It was the first week when she managed to punch the holes all by herself, and she was quite proud. She also practiced cutting and attempted to grate potatoes, but quickly realized that it's not as easy as it looks. I am looking forward to when she is actually able to do her favorite "potato pancakes" herself.
Please visit Learning through Love and Preschool Corner for other weekly wrap-ups.