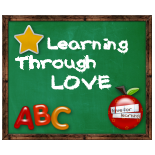 We received Anna's first official "progress report" from her preschool. She is thriving there. The teachers wrote among other things that she "has amazing talent" and "her ability to read is way beyond age-appropriate". What made me especially happy is the phrase, "She has outrageous positive energy, and we just love her". It might appear sometimes from my posts that she is a very serious child, but she can be such a funny bunny sometimes, and we all love to play physical games of chasing and tickling.
I have a friend at work who has a very bright son one year older than Anna. She warned me that as children get older, it gets harder and harder to get them to do what we want them to do – they choose their own activities. It was very evident this week. We played a lot, we read books, we did some arts, but we didn't have any sort of "sit down" school outside of Progressive Phonics.
Phonics. We do "reading words" every night right before starting our night routine. It became part of the ritual. Sometimes we read one page out of Progressive Phonics, sometimes ten. Basically, we go as long as Anna wants. We finished Long Y book and started on n-endings. I would say that Anna's reading is definitely far into "emergent" now – she can read very many sight words and starts to really follow the text and not the picture when we read together. c
Math. We didn't do anything special for math this week, but puzzles are great for visual discrimination and for spatial reasoning. Puzzles are not Anna's strong point. I had to help her quite a bit with this one, but because of the colors it was fairly difficult to figure out where the pieces belong. She still struggles on putting the frame pieces together, but I hope that she will get to like puzzles as time progresses.
Science. We watched Sid the Science Kid episode about teeth and brushing, and Anna spent the rest of the week talking and asking questions about teeth. This Berenstain Bears book is pretty good in describing various instruments in the doctor office. One evening Anna asked an interesting question, Are teeth bones. We went to the computer to investigate together and found out that teeth are not bones, even though it was hard for her to comprehend why. The other night she wanted to see the picture of molars and incisors (yes, she said molars and incisors), because she suddenly remembered those words from Sid's episode. It's fun when we can incorporate computer research in our everyday life so naturally. I wonder what my parents were doing when they were stumped by my "why"s.
Arts and Crafts. As always, we participated in Open-Ended Art (painting with feathers was fun, cleaning those feathers off the furniture… not so much) and StArt. We also made handprint turkeys – I will write about them next week. I don't think it was a very good crafting week – somehow I always had to cajole her into doing something. I am hoping that the things will change once we have a designated arts area.
To check out what other children are up to, visit two great weekly wrap-ups: Preschool Corner and Learning Through Love.