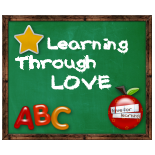 It was a great week. Anna was in a good mood most of the time. She really enjoyed her birthday party last Saturday and was delighted by her presents. The weather was great – crisp and sunny, perfect for spending some time outside. A theme of the week in Anna's school was Halloween, and they made a lot of interesting crafts there – toilet paper bats, painting candy corn with marbles, spiders, etc. She was in a crafty mood at home too and quite willing to go along with whatever project I had in mind. She was also very sweet and constantly told us how much she loves us. I truly enjoyed our time together.
Phonics. Anna's reading really took off this week. It's almost like her reading muscles need rest from time to time to gain new strength. She was asking for her "reading words" every day, and her fluency became much better. She doesn't need to sound out many simple words any longer, she reads them as a unit. And she read two Bob books even though she still resorts to guessing the word a lot based on its first sound. I am really proud of her progress and her new confidence in her reading abilities.
Math: My parents gave Anna this game called Addition War some time ago. I put her into her so-called "workboxes" in the kitchen about a month ago, but she wasn't interested in the least. On Wednesday she pulled it out and wanted to play. I removed the cards where the sum was more than 10, and we played a round. She caught on very quickly and made a counting mistake only once. Interestingly, we tied in the end :) Simple math seems to come naturally to her, I don't really use any kind of curriculum for it. We reinforce high counting by playing ball games when we count each throw.
Science: We are still focusing on Human Body – Anna seems to be very interested in the topic, and she plays doctor a lot. She is not interested in making her dolls and animals well, only real playmates will do. She really likes My Own Human Body book that we received from my parents more than a year ago. It ties well with her favorite birthday present – My Human Body puzzle. She does this puzzle a few times every day and discusses how our muscles and bones work. It's fun to hear her voicing her learned opinions on how important sunscreen is and why we have hair.
Arts and Crafts: We did many things this week – more than usual. Probably it was because this week Anna was always happily awake by the time I got home. Sometimes it takes her a while to get going in the afternoon, then we don't get to do much. Anna "decorated" pumpkins, put together "a ba-a-ad witch", drew her first real picture and did assorted other projects. I love it when she is truly engaged in her art, and I hope that she will inherit some of her papa's creativity.
Fine Motor Skills/Prewriting. We didn't do a lot of prewriting activities outside of crafts. I see a lot of great ideas for fine motor skills on the blogs I read, and The Adventures of Bear has an interesting series going on Pincer Grasp Workouts. I often think, "I should do that!", but somehow can't find the time. However, Anna does get some fine motor skills workout simply through play. She was very lucky to receive this Tinkertoy Classic Set from one of her friends, and putting together those rods and connectors is not an easy task for a three year old. Papa showed her how to build "a magic wand", then she built one herself. In the background there is the Tinkertoy swing that papa had put together in about 2 minutes while I was still struggling to understand what can be done with this set. Boy, I sure hope that our daughter will inherit papa's building skills too :)
To see what others are doing this week, visit two great weekly wrap-ups: Learning Through Love at My Family My Forever and Preschool Corner at Homeschool Creations.