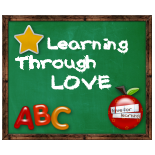 This week was even lighter academically than last week. Anna had new toys to play with and too excited to take naps. When she doesn't take a nap, we only have about an hour and a half between my arrival from work at 5 pm and her dinner/bedtime routine at 6:30 pm. We used this time for opening presents, playing with them, going to the library or playing outside. Anna enjoyed celebrating her birthday at school with her friends. The preschool theme of the week is Autumn. They also do Letter of the Week, which Anna quite enjoys. Current letter is C – they are doing C crafts and collages of C words.
Field Trip – Farm. Since my husband is not a big fan of pumpkin patches, we took Anna on the "semi-real" farm. I highly recommend Rancho San Antonio to people who live in Bay Area – it's a beautiful and easy hiking path, and both parking and farm visit are free of charge. Anna had fun looking at fall harvest that wasn't picked yet and at various farm animals. Of course, she had to be carried back – 1 mile hike was OK in one direction, but she was all done with walking on the way back.
Field Trip – San Francisco Zoo. On Tuesday I took a day off, and we headed to San Francisco Zoo. Again, we were quite lucky with the weather. It was raining on Anna's birthday, but Tuesday was beautiful and warm, even in SF. The zoo was very empty, and we managed to hit all the highlights in two hours. It helps to have a membership – we don't feel forced to stay later than we really want to. Anna was not in a good mood – she wanted to ride in her stroller most of the time, and wasn't particularly interested in any animals, just in the process of moving from one exhibit to another. We, on the other hand, really enjoyed African savannah exhibit – a true highlight of SF zoo.
Science. Since we had our fill of Autumn books and crafts already. we stuck with Our Body theme from the last week. Anna asked to read this library book several times and then entertained us with many pearls of wisdom that were always coming quite unexpectedly:
When the Wicked Witch died, her start stopped pumping…

I have blood all over me, and it's all red.

Mama, do I have muscles in my popo (butt)?

What is my brain telling me? It's telling me that I need some chocolate
Math. I picked this book from the library quite by accident, and Anna fell in love with it. It's a very interesting book for older kids and even for adults. It puts things in perspective – what humans could do if they were as strong as an ant, as fast as a spider, etc. Even though most of the material and the math behind it was totally over her head, Anna found the text and the illustrations very fascinating. Who knows maybe she even got a little bit of the math behind the comparisons – she keeps making the funniest remarks about measurements:
I am going to measure my kitty. Look, it fits perfectly into this box. Kitty is one-and-a-half inches long. It even makes sense, at least she is talking about inches and not about minutes :)
Phonics. My parents gave Anna this book of Phonics for her birthday (among many other presents that they sent her). I like the book, it's a pretty nice phonics curriculum that goes pretty quickly into about second grade. I was always curious to find out what the kids are actually supposed to know by that time. It's kind of amusing to realize that my freshly made three year old is at the kindergarten level in phonics. Anyway, Anna was excited about the book, and we did a couple of worksheets out of it. We didn't do anything on Progressive Phonics due to total lack of time and desire on both sides.
To see what others are doing, visit Jolanthe's Preschool Corner and Susana's Learning Through Love linkies.