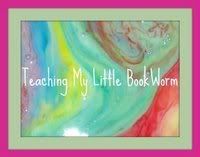 This is the second week of Open-Ended Art carnival at Teaching My Little Bookworm. The subject was "tissue paper". I admit that I never-ever did anything with tissue paper before. I am not big on pretty wrappings (unless I am on receiving end of them). However, I have saved some tissue paper of two different colors from gifts some time ago, and it came handy now. It's nice to see that some of my
"maybe one day"
plans actually come to fruition. Since Anna never handled tissue paper before, I suggested to her to tear some paper and glue it on top of the coloring template. She was quite excited - she loves glue. She chose "kitty" template:
Pleased with herself:
At this point she declared the project finished:
Well, since the project was supposed to be open-ended, I pulled out a clean sheet of paper and asked Anna if she wants to glue some pieces of paper to it just the way she wants to. As always, she asked me what she needs to make, but I told her to make something of her own:
After gluing for 5 minutes, she pushed the paper away and declared,
I am done, and it's nothing
I looked at her creation and said,
I think it looks like a face with long eyes, thick eyebrows and a birthmark on the side.
She got excited and said,
Yes! It's a picture of you, mommy! Let's put it up on my display board!
Gee, thanks honey :)